Cayman Film Festival Closes to Rave Reviews
Grand Cayman, Cayman Islands – Some of the world's finest actors, filmmakers, directors, producers, screenwriters, stuntmen and women as well as attendees have given two thumbs up to the CayFilm Cayman International Film Festival after a very successful second year.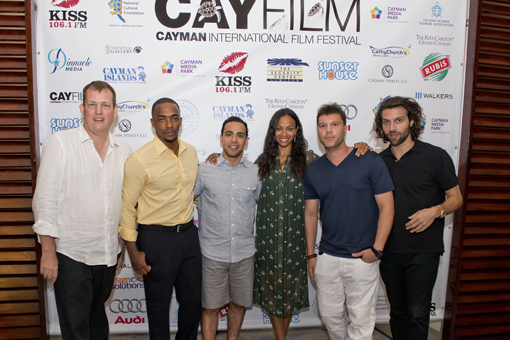 With 200-plus films screened from more than 50 countries, 50 workshops and panels and 35 local film submissions, the young Festival is already showing incredible growth. Endorsements from industry heavy hitters such as Gary Lucchesi, Robert Watts, Zoe Saldana and Anthony Mackie will further establish CayFilm as a must-attend on the festival circuit.
One highlight of the event was undoubtedly the reunion of some of the Star Wars cast and crew. Producer Robert Watts, Jeremy Bulloch (Boba Fett), sound designer Ben Burtt, visual effects master Lorne Peterson and stunt man Paul Weston sat on a panel and regaled the enthusiastic audience with stories about the making of the movies, their memories and LucasFilm. Moderated by Borys Kit from The Hollywood Reporter, the industry legends were also joined by special effects guru George Gibbs of Raiders of the Lost Ark fame.
"I think it is the best festival I've ever been to. I've been to Cannes and I can tell you, I'd rather be here," said Watts, who was honoured with a Lifetime Achievement Award over the festival weekend. "I think the festival has been fantastic; it has been beautifully organised. It's been so broad, so many films, so many events and such a wonderful place."
Another reunion that took place over the weekend was that of the stars of Haven, a feature film that was shot entirely in the Cayman Islands in 2004 by Caymanian filmmaker Frank E. Flowers. The movie featured Bill Paxton, Zoe Saldana, Anthony Mackie, Orlando Bloom, Victor Rasuk and Bobby Cannavale. Flowers and Saldana, Mackie and Rasuk talked about the making of the movie before debuting a never-before-seen director's cut.
Warner Bros./New Line Cinema's new summer blockbuster film LIGHTS OUT was also screened at the Festival. The movie is scheduled to be released in US theatres on 22 July but Festival-goers were treated to a late-night showing and an appearance by Alexander DiPersia who stars in the horror flick.
Other industry professionals and celebrities in attendance were Reno Wilson (Mike and Molly, Mighty Joe Young, Rough Draft, Fallen, Crank, Transformers, White Hype), writer James V. Hart, Oscar winning editor Jeff Consiglio, Oscar winner Dieter Sturm and Gary Lucchesi film producer, President of Lakeshore Entertainment and President of the Producers Guild of America who also received a Lifetime Achievement Award from the Festival.
Festival Director Tony Mark said 700+ films were submitted to the panel of international judges and six films from 10 genres were nominated for awards.
The winners were:
Best Short Film – Semele
Best Underwater Film – What Would Wallace Think?
The Paul Schrader Best Screenplay Award – Fireflies
Best Feature Film – Love is All You Need?
Best Feature Documentary – Gods in Shackles
Best Documentary Short – Ron Taylor: Dr. Baseball
Best Environmental Film – Bighorns at the Junction
Best First Film – Until It Hurts
Best Music Video – FIRE
Best Animated Short Film – Junction
The Frank E. Flowers Local Filmmaker Award went to the makers of Epiphany while the 48 Hour Film Project award was given to Black Sheep: The Skip Sullivan Story.
"We had an amazing, jam packed 4th of July Festival weekend with a fantastic line-up of supportive, gracious individuals from the filmmaking community both locally and worldwide, and the corporate community. We're already trying to figure out how to top this year!" said Tony Mark, Festival Director. "The response was overwhelming, and we just want to thank everyone who had anything to do with helping us pull off CayFilm. We are so excited about what this means for the film industry in Cayman and for our young aspiring Caymanian filmmakers."
The 2017 CayFilm Cayman International Film Festival takes place from 30 June to 3 July.