Former Cayman Resident Brings Her Critically Acclaimed Film Home to CayFilm
Grand Cayman, Cayman Islands – Former Cayman resident Alex Helfrecht will be bringing her critically-acclaimed film The White King to the CayFilm Cayman International Film Festival for a screening sponsored by Cayman Spirits Company that will include complimentary cocktails and a Q&A with Helfrecht and the film's producer Philip Munger. The showing will take place on Saturday, July 1st at 8pm at the Ritz-Carlton, Grand Cayman.
The White King is an adaptation of a book by the same name, written by Hungarian author György Dragomán. It is about Djata, a carefree 12-year-old growing up in a brutal dictatorship shut off from the outside world. When the government imprisons his father, and Djata and his mother Hannah are labeled traitors, the boy will not rest until he sees his father again.
The feature film has been described by The Guardian as "unpredictable, disturbing dystopian drama" and "an intriguing, sombre work". SCIFI NOW has called it "… refreshing… upsetting… insightful… a very human look at both sides of the mechanics of a dictatorship…". It had its world premiere at the 2016 Edinburgh International Film Festival and was released theatrically by Signature Entertainment on 27 January 2017, followed by a digital and home video release.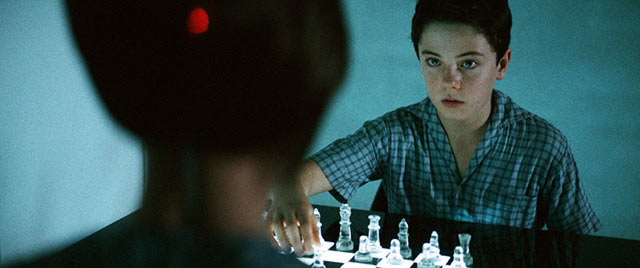 "This film can be viewed as a science fiction or perhaps a film of anticipation that paints a world in which the masses, like Djata and his parents, lead impoverished, rural lives under surveillance whilst the military leadership live luxuriously with exclusive access to worldly progress and technology," said Helfrecht. "I'm really excited about bringing it to Cayman and engaging with the local film community. The fact that Cayman now has a film festival that is continuing to grow is amazing. I hope CayFilm's presence will encourage filmmakers, government and investors to help make Cayman a centre for film production."
Helfrecht's family has lived in Cayman since 1994 and she attended John Gray High School and UCCI (then called Community College of the Cayman Islands) between 1994 and 1995 before finishing her studies in the UK. She still feels a strong connection to the island and visits at least once a year, now with her husband and co-director Jörg Tittel, and two kids.
For more information about The White King movie follow on www.facebook.com/whitekingfilm and www.twitter.com/whitekingfilm or watch the international trailer at https://vimeo.com/210334623.
The CayFilm Cayman International Film Festival takes place from 30 June to 3 July, and includes daily film screenings, question and answer sessions with filmmakers, panel discussions, workshops, an exclusive premiere screening, a celebrity gala event and an awards ceremony. Both VIP and General Admission tickets are on sale and available at Cathy Church's Photo Centre and online at cayfilm.com.