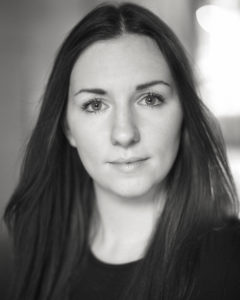 Assistant Festival Director
Kirsty has been acting from before she was even ten, performing both on stage and screen. She studied Acting, and then Musical Theatre at Edinburgh's Telford college gaining a Higher National Certificate in each. Kirsty then went on to study Drama and Performance, and started teaching drama alongside her studies. She taught acting privately for Edinburgh Acting School (which she owned and ran from 2011-2017), Scottish Youth Theatre, Stagecoach Performing Arts, Brunton Youth Theatre, East Lothian Youth Theatre and many more teaching both adults and children. In this time she coached many performers who went on into the arts industry professionally themselves, and volunteered with Lung Ha's theatre company for adults with additional support needs. Kirsty also directs, and writes, alongside teaching and continues to keep her passion for the art very much alive!
She believes in using acting as a way of gaining confidence, communication skills and, of course, nourishing natural talent. Back in her homeland of Scotland she was signed with Stiven Christie Management as an actress herself and she worked in both stage and screen during this time. Her move to Grand Cayman in 2016 meant hanging up her hat as an actress and focussing on teaching. She now works for the Cayman Drama Society at the Prospect Playhouse in their first full-time post as the Education and Operations Officer. Here she teaches acting to adults and children, and provides production support for the theatre. Within months of landing in Cayman, she had filmed two shorts for Cayfilm, and was pleased to see that she would still find on screen opportunities on the island. She started to volunteer with Tony and Jen, and has never looked back. She is very much looking forward to being involved in the thriving film festival and watching it grow further!